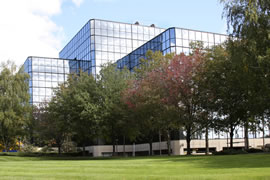 With today's technology, modular homes can be built in any style, and completion time for a home can be reduced by up to 50 percent.
There are misconceptions that modular homes mean cheap, low quality, have no design flair, and are basically glorified trailers. But many builders today are redefining what a modular home looks like, and building modular can help builders become greener. Analysts project that 2015 will become the "breakout year for modular homes," as U.S. News reported.
Here's a list of nine other ways going modular can benefit the builder:
1. Any Architectural Style Is Possible.
Affordable, modular homes in Kvistgård, Denmark, 2008.
2. It's Faster. Project Completion Time Can Be Reduced By 25 To 50 Percent.
Modular Cape Cod cottages in Heritage Sands by CapeBuilt Development in Newburyport, Mass. Read more about the project here.
3. It's Greener. The Need For Waste Removal On The Building Site Is Significantly Reduced.
This 2,400-square-foot ski retreat in Killington, Vt., features big, chalet-style windows and additional windows throughout each room that allow plenty of light and views from the mountaintop site.
4. The Amount Of Space Needed On Site For Staging And Stockpiling Materials Is Greatly Reduced.
Bald Hill Builders in Sharon, Mass., used modules from KBS Builders, in South Paris, Maine, to assemble this three-unit townhouse building in New York City. Bald Hill considers the logistics and scheduling of each project before determining if modular is the best option. Photo: Bald Hill Builders
5. Site Work Can Be Delayed To Occur During The Factory Process, Which Limits The Project's Impact On The Neighborhood.
A modular home in the Czech republic by Koma Modular Construction, s.r.o. Photo: Wikimedia Commons
6. Factory Labor/Material Rates Are Lower Due To The Manufacturer's Buying Power—Savings That Are Passed Along To The Builder.
Low-maintenance interior materials help cottage dwellers of Heritage Sands make the most of precious time spent at the beach. Interior design is by MacKenzie & Mae Interiors, in Hyannis, Mass.
7. Modular Homes Are Much Stronger Than Stick-Built Homes Because The Modules Are Over-Engineered To Withstand The Rigors Of Travel.
Karoleena's homes in Okanagan falls, B.C., are built with a proprietary steel core that makes them extremely strong. Ductwork, wiring, and plumbing are run through the floor, allowing for large interior spaces and a modern look. Photo: Steve Dutcheson Photography
8. Large-Volume Tract Builders Can Adjust Their Production Up Or Down In Any Given Month Based On Sales, Without Added Construction Overhead Or Extra Staff.
9. Modular Companies Can Help Smaller Builders Who Typically Service The On-Your-Lot Buyer Contain Their Soft Costs And Market Their Homes More Competitively.
Ritz-Craft's Restore the Shore Collection is designed for areas that were ravaged by Hurricane Sandy.
Source: http://www.probuilder.com/9-reasons-go-modular